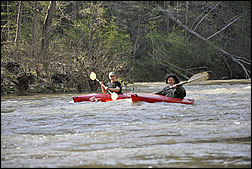 First discovered by Squire Boone, Daniel Boone's brother, Blue River is one of only three Indiana rivers on the national Natural Scenic River list. It starts in Washington County and flows between and through Harrison County and Crawford County on the way to joining the Ohio River.
Over 50 miles of the river are popular for canoe and kayak trips. Both of our cabins offer private access to Blue River. In addition, there are several public access points, as well as canoe liveries on the river. Click here for more info about Blue River.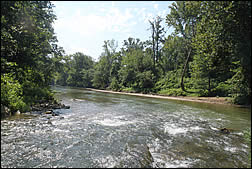 Harrison Spring, which gets its name from US President William Henry Harrison, is the largest spring in Indiana. It creates a small tributary that flows for about a half mile before merging with the Blue River right in front of our Harrison Spring Cabin.
For more info about Harrison Spring check out this Wikipedia article.