Sleeps 12 people
3 Bedrooms
1 ½ Bathrooms
Additional beds in living area & on porch
Fully equipped kitchen
Giant open living area w/circular fireplace
Huge screened porch wraps around 2 sides of cabin
Private access to scenic Blue River
No central heat or A/C
Open April - October
Cardinal House Lodge rests on the banks of Blue River in a park-like setting, offering easy private river access. A large screened porch wraps around two sides of the building and provides space to dine, sleep, gather with guests, or watch the river. An interior large circular fireplace offers additional gathering opportunities in an open family room setting.
Cozy enough for two, but large enough to sleep up to twelve comfortably, this cabin has three bedrooms (two with double beds and one with twin bunk beds), two twin beds in view of the fireplace, three cots on the screened porch, and sleeping couches. Linens are provided. Click for pictures of the sleeping situation.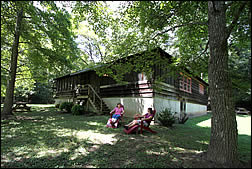 The cabin also features two bathrooms (one half, one full with shower), a fully equipped kitchen (including commercial Vulcan gas stove, electric stove, and butcher block prep table), exterior gas and charcoal grills, indoor and outdoor dining areas, picnic tables, and a riverside campfire circle.
As a rustic lodge-type cabin, there is no central heat and no air conditioning, but the giant screened porch stays nice and cool, and several fans help cool the cabin. In keeping with the rustic setting, there is also no television, but there is so much else to do here that you definitely won't miss it. See cabin rental rates. Check cabin availability.
The Lodge was built in the 60's as a youth retreat and this building was where the counselors stayed
We named it Cardinal House Lodge because of all the birds flying around
The lodge is very open on the inside
The fireplace makes for a great gathering place
The screened porch wraps around both sides of the room
There are several large tables at the lodge
A large kitchen features 2 stoves and a huge butcher block table
Very functional kitchen makes it easy to feed large groups
Great little breakfast table
The lodge is the perfect place to relax
Bedroom 1 features a Double Bed
Bedroom 2 has a Double Bed
Bedroom 3 has Bunk Beds
There are 3 cots
A great gaming table
There are 3 tables on the porch
The porch is filled with sights and sounds
The porch wraps around and is perfect for relaxing and listening to the birds
There is a nice yard perfect for games
The lodge is nestled under large shade trees
This place is set up for the nature lover
Bring your own boat or rent one nearby. We are right on the Blue River.
The Blue River wraps around the property
We have a gas grill and large charcoal grill
Or you can use the firepit with grill